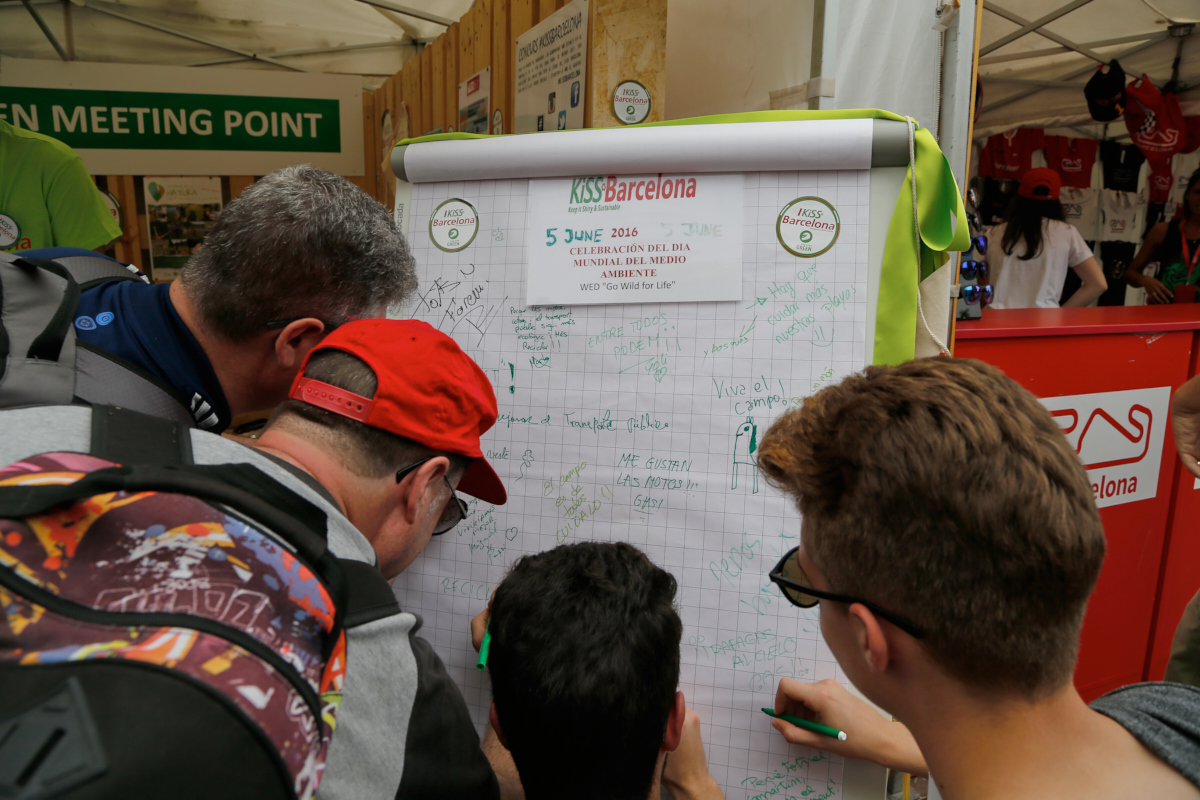 The FIM Environmental Award, presented since 1997, recognises the efforts made by organisations, federations, individuals or teams who have made a significant contribution to the organisation of sustainable events that minimise the environmental impact and leave a social legacy in their community or region.
This year, the International Jury was composed of MsJill Savery, Sustainability Consultant and Adviser, Mr Justin Zeulner, Executive Director at Green Sport Alliance, Mr Nysan Sahba, Director of the Communication and Public Information Division of UNEP, Mrs Kattia Juarez Hernández, Director of the FIM International Environment Commission, and Mr Josep Punti, Member of the FIM Awards and Recognition Committee. We are pleased to announce that the 2016 winner is the Circuit de Barcelona Catalunya.
The Circuit is fully committed to sustainable events and daily management. It has held the ISO 14001 certification since 2008. In addition, the Circuit won the FIA´s Achievement of Excellence award conferred by the FIA Institute's Sustainability Programme in 2015 and the FIM Environmental Award in 2012 for its Green Meeting Point Programme.
This year, the jury chose the winner for the different actions focused on achieving a sustainable event during the Gran Premi Monster Energy de Catalunya de MotoGP. All the actions aligned with the Sustainable Development Goals were innovative, focused on fan engagement, development of the sphere of influence, and local schools. The initiatives included waste management, sustainable mobility, surplus food collection and donation, local food, promotion of local artists sending Ride Green messages, sustainable mobility, environmental education for kids and fans, World Environmental Day celebrations with local musicians, support of "Semana Natura" (Nature week), an event promoted by local government, and the inauguration of the first Ride Green Corner, amongst others.
Since 2014 the Circuit has adopted the KiSS Barcelona version of the KISS Programme promoted by FIM aimed to organise sustainable events that comply with the FIM Environmental Code but also incorporate other innovative actions in favour of the environment and social aspects associated with the race. Ambassador Marc Marquez fully supported the 2016 programme.
Kattia Juárez Hernandez: This year has been an extraordinary year because we have received high-level candidatures from three different continents and from different motorcycling disciplines. Additionally, this year we have an international jury made up of top level experts. Choosing a winner has been difficult because every year the level improves in different spheres: there is more innovation, more people are reached, more awareness is raised. Some projects are very good in one area and others in another so it is very difficult for us to take a decision. This year the scoring was very close and I must congratulate the 3 highest placed entrants: Varkaus racing team, Mugello Circuit and the winner, Circuit de Barcelona Catalunya. To the rest of participants, we would like to stress that we are very proud of you and we encourage you to continue along the path of excellence.